Beware of Rogue Movers.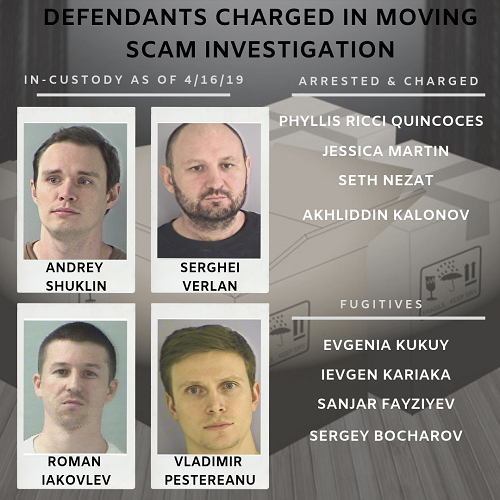 Here is a case that is still ongoing with movers that were not certified and did not have any history. They would agree to complete work at a low cost, then would charge unwarranted fees after. This company would then hold customers items hostage if they did not pay them. They would also change their name when customers became aware of the fraudulent practices. They continued this operation from Maryland and across the country since 2013. 
Arrests have been made now the clean up.
Attorneys are still sifting through evidence in an alleged nationwide moving scam that defrauded 900 people.
In a joint status report filed last week, the government wrote that there's "voluminous discovery" in this case, and a trial date has not yet been set.
The government has provided defense attorneys with close to seven terabytes of data. The terabytes of data includes 80 forensically imaged computers, multiple email accounts, bank records, corporate and customer files and documents. Moreover, it includes evidence seized during search warrants of multiple warehouses around the country where customer's goods were being stored.
There has been some progress. Since the indictment last July, federal agents helped recover 200 customers' belongings from warehouses and storage units throughout the country.
Last year, 12 people were charged with conspiring in a racketeering enterprise to defraud customers through their moving companies. According to federal officials, the movers would give low binding estimates, load up the moving trucks, then demand more money. If customers didn't pay, they'd hold their stuff hostage.(wmar2news)
It hurts workers and the local economy when criminals give our industry a bad name,even though these types of situations are rare. For companies with similar names, the victims of these crimes often mistakenly blame them for what happened and sometimes give them bad reviews online, which can hurt their business. I'm glad to hear the FMCSA has gotten more engaged on this issue, and we would encourage them to do everything they can to help these consumers. 
– Michael Keaton, spokesperson, The American Moving & Storage Association
We are ProMovers and certified! 
World wide Moving Systems is family owned and operated company! We have been in service for families, military and companies for over 40 years. We pride ourselves with providing the upmost care for moving storage and logistical needs. Even though, we have a good reputation in the community we still felt it was a need to be certified pro-movers. Credentialing our service and establishing another layer of trust and reliability for customers. The American Moving & Storage Association launched a consumer protection and certification program called ProMover on January 1, 2009. This initiative is designed to fight impostors, known within the industry as "rogue operators. Promover certification gives consumers an easy way to separate reputable, professional movers from con artists out to make a quick buck at their expense. Contact Worldwide Moving Systems for your next move and feel secured to know we are professional movers that will have upstanding ethical business practices and will make sure we do the best for your move.