The first question anyone thinking of moving into a larger home should ask is if they can afford it, but that's only part of the equation. Even if things are great now, life is unpredictable, and your finances could change. 
 
Still, you can't live life in a shoebox just because you are afraid to take the leap up to the next level. Are you ready to move up? Here are 4 questions you need to ask yourself .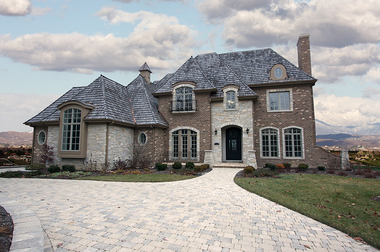 1. Do I need a bigger place?
 
An obvious question to ask when you start contemplating moving up to a bigger, more expensive home is do you really need it. Just because you can afford to move into a larger home doesn't mean it's practical. 
 
Think about the neighborhood where you live and the friends that you have. Are they special enough to make you want to stay where you are? Most people start thinking about moving to a larger home out of necessity.
 
Life changes, such as a new baby or an elderly parent moving in can make the move necessary. If you are looking for a bigger place just to show off, don't forget that good times don't always last and when the music dies, you don't want to be stuck with more house than you can afford.
 
2. Can I afford it easily?
Maybe you can afford it if you skip lunch every day, cut out coffee altogether and live without electricity every other month, but is that worth it? If you cannot afford a bigger place easily, why add the stress for no reason?
 
Remember, it is one thing to have the credit score and the income to be approved for a home, but it's a whole different thing to be able to afford it easily. You want to make sure that you don't have to spend most of your paycheck just to pay the mortgage. 
Consider your lifestyle. Are your kids active in expensive sports? Do you have high monthly expenses that make staying in the black difficult where you are already? Before you jump up to the next level, be sure you won't lose your hair worrying about making the mortgage payment.
 
3. Will I want to stay long enough to recoup my closing costs?
 
Finally, if you are moving into a larger home, are you ready to be in it for the long haul? You'll put down a lot of money in closing costs to move into a larger home. Are you prepared to stay there at least long enough to recoup your closing costs?
 
4.Do you have savings to accomodate repairs and updates for a larger home?
Many people may not think about the added cost of maintenance for a larger house. Especially if it is a house that is 15 plus years old. One should inquire when and if major systems have been replaced. In addition, if the roof has been reshingled, any pipes have been replaced and if septic systems have been serviced if applicable. Larger homes may have more than one HVAC system so that is a cost that should be recognized as it maybe in need of replacement if it is nearing the end of it's life cycle. A significant cost can be incured if you have an older HVAC system and you are repairing it yearly and need new refridgerant every summer with the high cost of the older r-22 refridgerant. It may behoove you to just replace both systems.  Check when the last time the furnace was repaired or replaced. Updating duct work to accomodate a new furnace will be costly. Pipeing for water, gas and sewer should be inspected. Here are some common estimates to take into consideration for how often to replace a residential or commercial roof: Composition Shingles: 12-20 years. Asphalt Shingles: 15-30 years. Wood Shingles: 20-25 years.
Renovations and painting costs should be accomodated for as well with updates to bathrooms overall paint schemes. 
Be savy in your search for a larger home. The newer the better as it may have some warrenties still in place. However, if you plan to stay for a longer time be sure to build a seperate savings to prepare. If it is an older home you should already have a savings in place. 
Thinking of making a move?
World wide Moving Systems is family owned and operated company! We have been in service for families, military and companies for over 40 years. We pride ourselves with providing the upmost care for moving storage and logistical needs. Even though, we have a good reputation in the community we still felt it was a need to be certified pro-movers. Credentialing our service and establishing another layer of trust and reliability for customers. The American Moving & Storage Association launched a consumer protection and certification program called ProMover on January 1, 2009. This initiative is designed to fight impostors, known within the industry as "rogue operators. Promover certification gives consumers an easy way to separate reputable, professional movers from con artists out to make a quick buck at their expense. Contact Worldwide Moving Systems for your next move and feel secured to know we are professional movers that will have upstanding ethical business practices and will make sure we do the best for your move.
Call us : 301-870-5300
Email : Customerservice@testmovingworldwidwebsite.wpassist.org